Rolle Black
Comfortable cannot be elegant? Then we would like to introduce our traditional and playful model kybun Rolle Black. It is ideally suited for health-conscious gentlemen who don't want to miss out on playful details. Silvery eyelets lend discreet glamour to the otherwise simple design.
kybun Rolle Black

Item no.: AM184A
Available sizes: EU 39 – 49
Upper: Full-grain leather and mesh
Lining: Microfibre
Insole: Mesh
Sole: PU, Tropo
---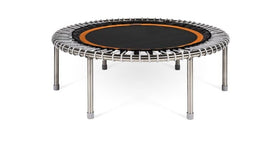 Springy like on a trampoline
The kybun shoe will impress you from the very first step. Just like on a trampoline, it provides you with a relaxing and training effect all in ONE! The elastic springy sole trains and relieves your body at the same time. Put on your kybun shoes and start walking, enjoy the unique feeling and benefit from an integrated training experience.
The elastic springy trampoline effect offers the best quality and healthiest exercise you can find! As with the vital elements in nutrition, the trampoline effect is the primary source of your exercise. Depending on the selected style, the sole has a more intense (higher rebound-effect) or lighter (lower rebound-effect) trampoline effect.
---
Foot sensor technology
The kybun shoe's flexible, cushioned trampoline sole allows your feet to feel every detail of the ground, which stimulates the health-promoting receptors in your feet.
Air-cushion sole
The novel kybun sole consists of specially developed multi-component polyurethane (PU), into which many tiny air bubbles have been sealed. This elastic springy air pad enables optimal cushioning.
Heel cushioning

Elastic & springy

Perfect pressure distribution
---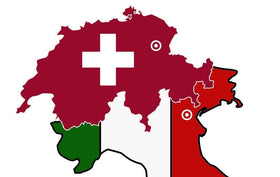 Swiss or Italian made
The Rolle Black is either Swiss Made or Made in Italy. To optimize our logistic network and labour force, we make some sizes of this kybun model in both Switzerland and Italy. We manufacture the Swiss air-cushion shoe and its elastic springy sole largely by hand, using a process that includes up to 40 different steps by a dedicated workforce of skilled shoemakers and kybun's Swiss high-tech sole robot. Both production facilities (Switzerland and northern Italy) follow the exact same manufacturing processes.
---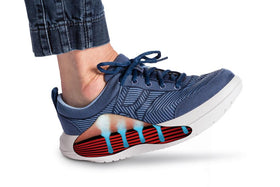 Foot climate system
The airy honeycomb structure of the kybun shoe creates an air-cushion between your foot and the ground. Every step pumps a fifth of the air volume into the foot space to cre­ate a comfortable shoe climate.
---
---
---
We Also Recommend